Legends Gaming Centre is a state-of-the-art bingo facility located at the Truro Power Centre in Millbrook, Nova Scotia.  Legends hosts bingo 4-days a week from Thursday to Sunday as well as special events, mega and super bingos.
In addition to ample seating for non-smokers, Legends also accommodates its smoking patrons with separate, climate controlled smoking rooms. Legends features a fantastic on-site canteen for visitors.
Legends spacious atmosphere also offers catering for groups for meeting and events offering a host of options for group bookings.
Legends Gaming Centre exists to support other not for profit organizations that assist in the development of healthy living activities within the Millbrook First Nation Community of Nova Scotia and surrounding area.
To contribute to the financial sustainability of local charities, enabling them to contribute to the overall good of our society, by permitting them to fundraise during our daily bingo sessions.
---
Chris Weunsch – General Manager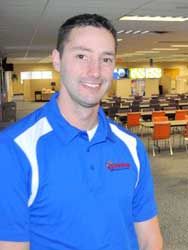 Chris Weunsch has been the General Manager of Legends Gaming Centre, even before the doors opened in December of 2012. A status native whom has been working in Millbrook for over nine years, Chris moved from New Brunswick to Nova Scotia to pursue a position in retail management. Chris is a loving husband, and father of two children. In his free time he coaches minor baseball, and volunteers when needed with a minor soccer league. Chris prides himself in his long standing work in customer service, starting at the young age of 16. He says his favorite part about the customer service industry is meeting new people, and looks forward to meeting many more at Legends Gaming Centre.